Back To Menu
Slow Roasted Prime Rib
Our choice slow roast prime rib, perfectly seasoned and cooked over night for optimal tenderness. Served with your choice of baked potato or baby reds, vegetables, Au Jus and creamy horseradish. 
(Only available Friday & Saturday starting at 3:00 pm)
10 oz.
$26.99
16 oz.
$36.99
Have you tried this item? Pop it!
Help other diners know what to expect by sharing your experience.
5 people have popped this item
Photo Gallery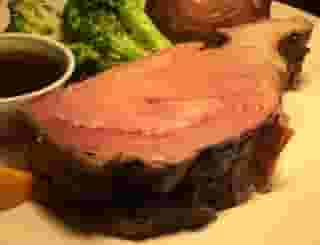 Back To Menu
Slow Roasted Prime Rib
Our choice slow roast prime rib, perfectly seasoned and cooked over night for optimal tenderness. Served with your choice of baked potato or baby reds, vegetables, Au Jus and creamy horseradish. 
(Only available Friday & Saturday starting at 3:00 pm)
10 oz.
$26.99
16 oz.
$36.99
  Back To Menu