Back To Menu
Surf & Turf
Our 6 oz. Top Sirloin paired with your choice of one of the following:
Pan-Fried Razor Clams (local when in season)
$28.79
Tiger Prawns - Sautéed or Deep-Fried
$26.79
Fresh "Lytle" Oysters - Pan-Fried or Deep-Fried
$24.79
Have you tried this item? Pop it!
Help other diners know what to expect by sharing your experience.
1 person has popped this item
Photo Gallery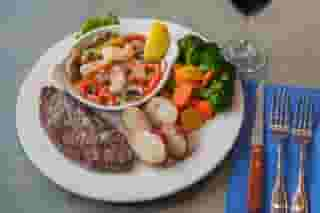 Back To Menu
Surf & Turf
Our 6 oz. Top Sirloin paired with your choice of one of the following:
Pan-Fried Razor Clams (local when in season)
$28.79
Tiger Prawns - Sautéed or Deep-Fried
$26.79
Fresh "Lytle" Oysters - Pan-Fried or Deep-Fried
$24.79
  Back To Menu